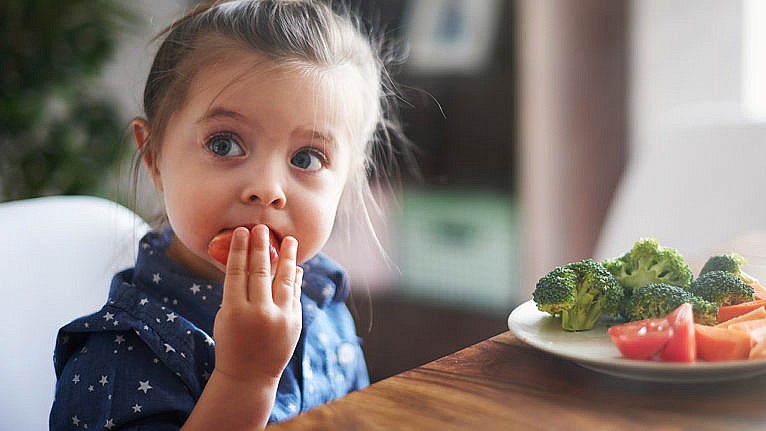 Parents always worry about kids getting enough healthy food in them. But if you're not winning this nightly dining table tug of war, what are you to do? Here are five strategic approaches to make sure your pint-sized family members are getting enough fruit and vegetables into their diets.
Disguise it
There's a reason this is an age-old parenting trick. Break out your blender or food processor to blitz steamed, roasted or even raw broccoli, spinach, kale and other nutrient-packed veg, and then stir it into a pasta sauce or soup.
For your household sweet tooth, smoothies are a sweet way to camouflage fruit and vegetables. Blend yogurt (or your dairy of choice) with a handful of ice, some easy-blending spinach and frozen mango for a snack to sip on during Paw Patrol.
Prep it
Seen those clear, stackable produce boxes on TikTok? While your fridge doesn't have to look like those uber-organized ones, TikTokers are onto something in that washing, chopping and storing your fruit makes it more likely to be grabbed when hungry tummies come around. You might even want to try some of the hacks circulating to help your produce last—i.e., washing your berries in a light vinegar and water solution and fully drying before storing them or storing baby carrots or sliced celery in a container with water to keep them fresh and crunchy. (Just be sure to change the water regularly!)
Choose it
Make vegetables the star of your dinner production one night a week to pack in the produce. (Think: "green" spaghetti made with a sauce of avocados and spinach or a quiche where you could mix in some of those puréed veggies to avoid a dinnertime meal dissection from your preschooler determined to find a sliver of pepper or onion.) 
Make it over
Chances are that if you offer your child a bowl of raw spinach, they'll refuse. But if you give it a makeover…well, they won't see it coming. You could layer puréed fruit into frozen yogurt and granola cups or turn sweet potatoes, parsnips and carrots into "fries." You could also try out one of the sneakiest slips of all—whipping up a batch of beet or zucchini brownies.
Like adults, kids also eat with their eyes first, so think about presentation and add lots of colourful fruit such as chopped up pineapple, strawberries, grapes and kiwis to a pretty bowl of fruit salad. (Or if you really want to be adventurous, throw in some more exotic items such as dragon or star fruit). You could even have a little fun and invest in mini cookie cutters to make watermelon or cucumber flowers—no one can resist them.
Offer it
One of the most effective ways is to always have on-the-go produce ready for snacking at times you know your little ones are going to be hungry and are more likely to munch on whatever is offered, like after swim class or school. This might include portable fruit options such as apples, oranges and bananas. 
Source: Today's Parent
—
Here at Discovery Point Nursery and Academy, we make your child's nutrition enjoyable and nutritious. Our in-house cook prepares fresh and healthy meals and snacks that kids love daily. If you have any questions about your child's nutrition, we'd be happy to discuss it with you. 

Discovery Point Nursery and Academy, Woodbridge daycare in Vaughan